How Much Does It Cost to Build a Mobile App?
10M+ people benefited from this article (A complete guide for your App Success)
The leading app analytics firm Flurry, a Yahoo company, recently released a report on app usage. The report says "U.S. consumers now spend more than 5 hours per day on mobile devices". The next report we are going to tell about is more exciting. A prediction made by the market research firm Statista says "By 2020, mobile apps are expected to generate around 189 billion U.S. dollars in revenues via app stores and in-app advertising in America. On the other hand, the APAC and the EMEA markets are not too far behind. Hope now your eagerness to develop a mobile app really got an acceleration.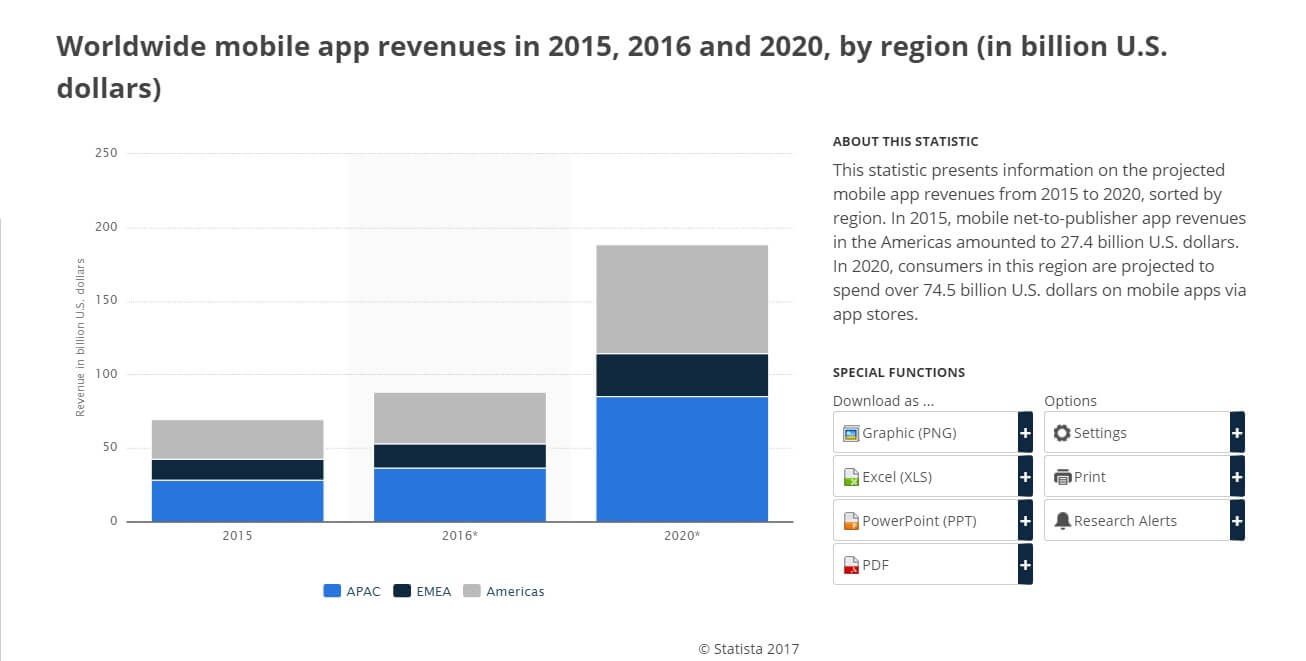 Image credit: Statista
Reasons behind the increased interest being showed by businesses on mobile apps is no more secret. Their interest could have been inspired by the following benefits of mobile apps:
A mobile app can work as an outstanding customer engagement tool, business promotion tool, as well as revenue generating tool. Ultimately, the combined result of all these can lead your business to achieve an outstanding growth.
But to hit down many birds (benefits) with one stone, you need a differentiating mobile app. Before going to build it, you have to have a clear understanding of the factors that impact application development cost.
With the experience of developing more than 1000 mobile apps for 750+ clients globally, (among them, 100+ apps including Big Basket and Byju's hit the top 10 positions of the app stores), FuGenX is here providing you a detailed analysis of factors that decide mobile app development cost.
Before approaching a mobile app development company to ask how much does it cost to make an app for your business, make sure you will unfailingly understand the following factors that impact app development cost:
The real cost of app development is estimated on the following factors:
Business engagement model you will prefer for the project
Platform (s) you will choose
Type of design you will prefer
Type of app you want to develop
Features and specifications required
In addition to this, the app cost can also vary on choosing between freelancers and a dedicated app development company. In addition to all these crucial things, the article also gives you ideas on the essential considerations that you have to look into before developing the app, and also provides tips to evaluate potential app developers. Let's start:
Which Business Engagement Model is Good for App Development?
There are mainly three business engagement models:
Fixed price
In fixed price model, mobile app development cost is calculated on the kind of features, functionalities, and designs required.
Time and material
In time and material model, the cost is calculated on the number of hours spent and the particular tools and technologies used.
Dedicated team
In dedicated team model, application development cost is calculated on the number of resources deployed to the project.
Note: The locations shown below show FuGenX's global presence and the type of business engagement models and benefits it offers for its customers on mobile application development.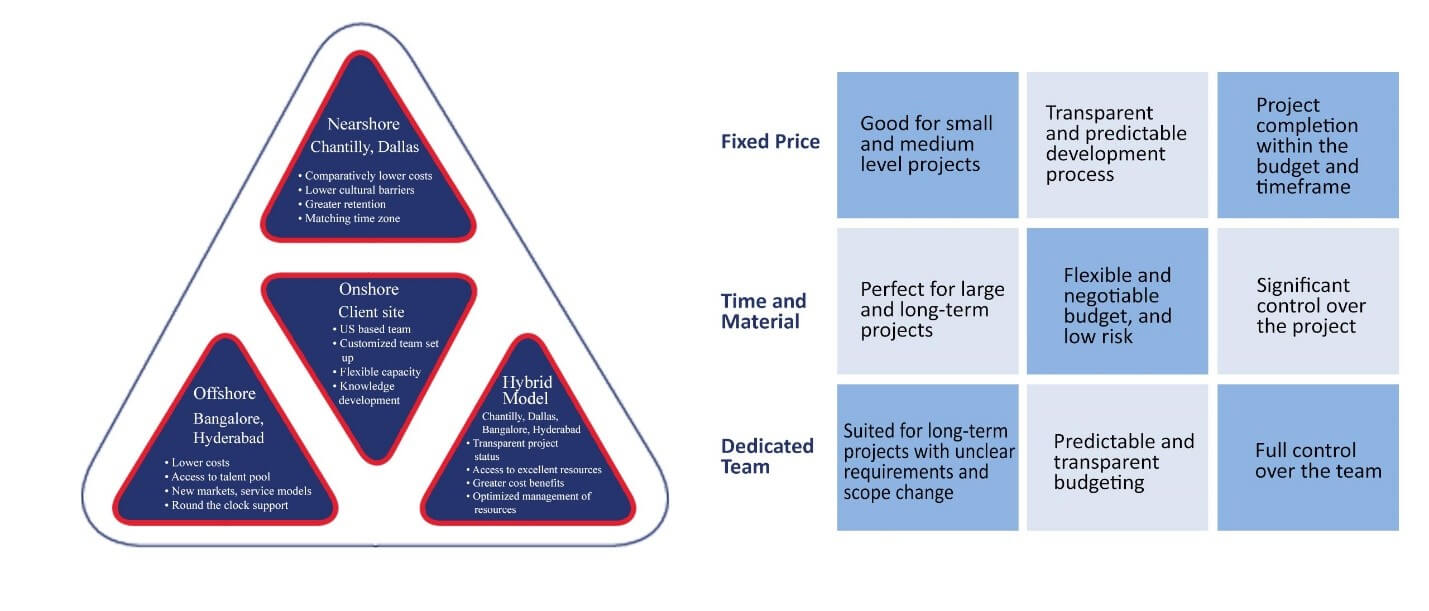 Which Platform Costs More?
Here you may get surprised. In fact, Android app development costs 30% more than iOS. It is mainly due to the following reasons:
More lines of code to be written: Applications for Android are written in Java, which is verbose language than Objective-C or Swift which is used to write code for iOS, need more lines of codes
Emulators are slower: Android emulators are comparatively slower than iOS simulators
Fragmentation: Android has more devices to test against compared to iOS
But the increasing cost can be avoided with the best development practices.
Which Design is Good?
There are mainly three app design trends today: Skeuomorphism design, Flat design, and Material design. Skeuomorphism creates a sense of familiarity by matching materials, while flat design (Apple recommended design) strictly follows its medium (Apple's guidelines). Material design (Google recommended design), which combines the aesthetic look of both skeuomorphism and flat designs.
Here is a simple example of these trending designs: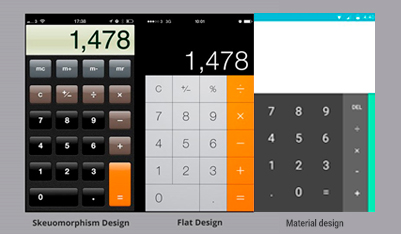 To know more about design cost, check with mobile app design cost.
Which to Choose, Native or Cross-platform App?
Native app, commonly called mobile app, is developed for a one specific platform, for example Android or iOS or Windows.
Cross-platform app is developed for multiple platforms like Android, iOS and Windows, using cross-platform app development technologies like Xamarin, Appcelerator, and PhoneGap, etc. Here one code base is used for multiple platforms.
When to choose native app?
To offer a rich user experience
When you've enough budget
When you have enough time to build app for multiple platforms separately
When to choose cross-platform app?
When your budget is constrained
When you need to launch app concurrently on all platforms
When you need to deploy app quickly
If you're going to develop a game
Get more ideas on cross-platform and native app development cost here. Let Us Help You Choose the Right One
Who is Better, Freelancers or a Company?
Hiring a freelancer may decrease costs, but might increase risks. Risks would be the lack of work ethics, miscommunications, and the timely completion of project. App development is not like a retail product like "'Goods once sold will not be taken back or exchanged". It needs iteration, it needs refinement, as well as a special care to avoid probable code breaks. If you're a software professional, you may know that the Agile methodology can be effectively carried out by only a dedicated team, not by any freelancer.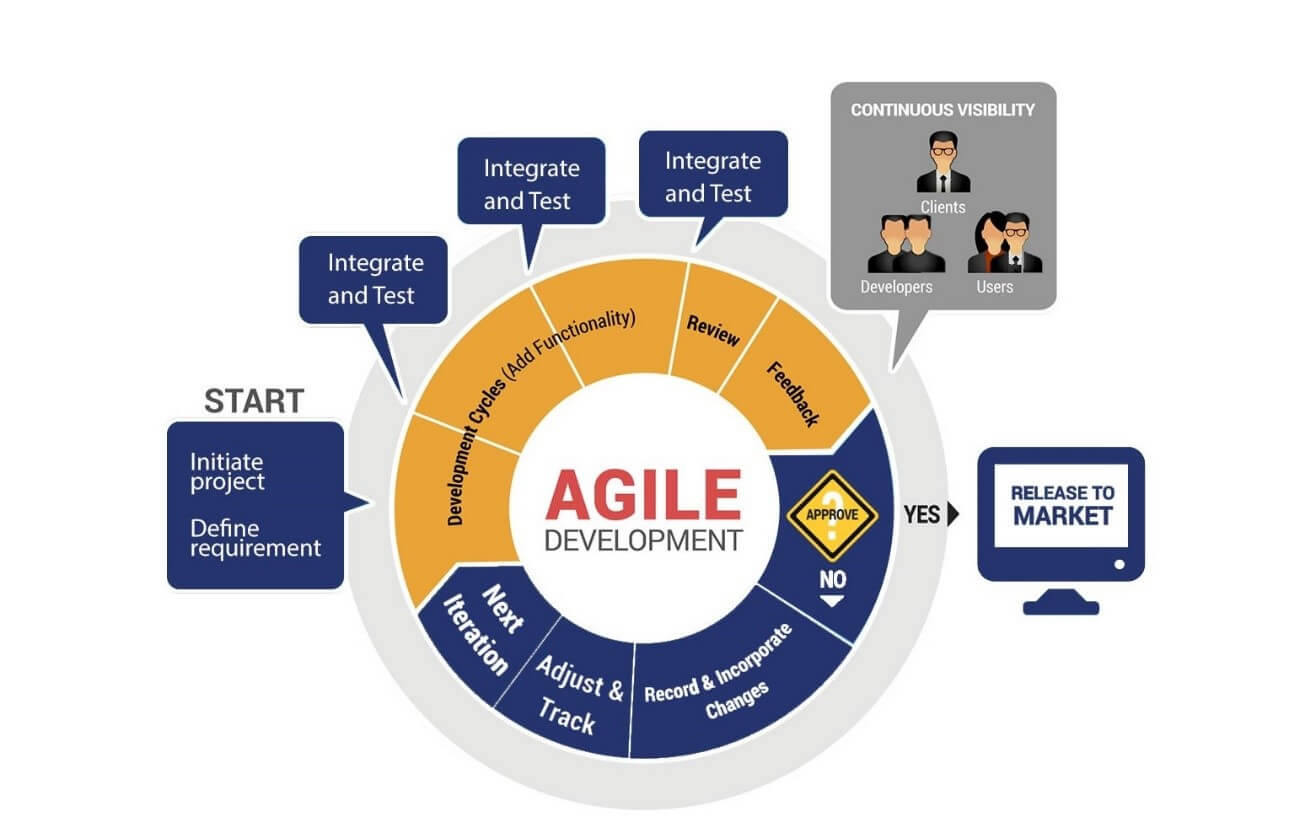 Things to Consider Before Developing an App
User requirements: Your app should be more user-centric, especially with respect to design and ease of accessing features. So conduct a study on prospective users' education level, and geography, etc.
Choosing right platform: Decide which to choose first, Android or iOS. If your customers are more on iOS, then go for iOS first. In case if you have good budget, go for both.
Competitive analysis. The first thing you have to do to make your idea better is competitive analysis. So you can easily fine-tune your feature and functionalities' list and will be able to develop a differentiating app.
Revenue generation: This is the most important part. You can generate revenue by selling products or services, or selling it as a paid app, or freemium app or through in-app purchase, or advertising.
How to Evaluate Mobile App Development Companies?
Most of the businesses fail to choose the right app development as everybody in the market sounds at the top of their voice as we are the best. Find these tips to choose the best app development company. FuGenX always feels free to provide all these must-provide details for its prospective customers.
Check their portfolio
Ask for client references
Check their expertise in the required platform
Which country app developers develop good apps?
There is an increased demand for mobile app development companies in India, especially companies based in Bangalore and with offices in US, by US, Europe, and UK companies for the quality and cost-effectiveness of services. At FuGenX, with offices in Bangalore, Hyderabad, Ahmadabad, Chantilly, Dallas and Dubai, we allow customers from US, UK, India, and Europe to access our services through on-shore, off-shore, or near-shore outsourcing and it is further divided into 3 different business engagement models such as time and material, fixed price, and dedicated team. Our iOS and Android app development cost in India is the most attractive.
Get more ideas on mobile app development outsourcing to India here.
Features and Functionalities that Impact App Cost: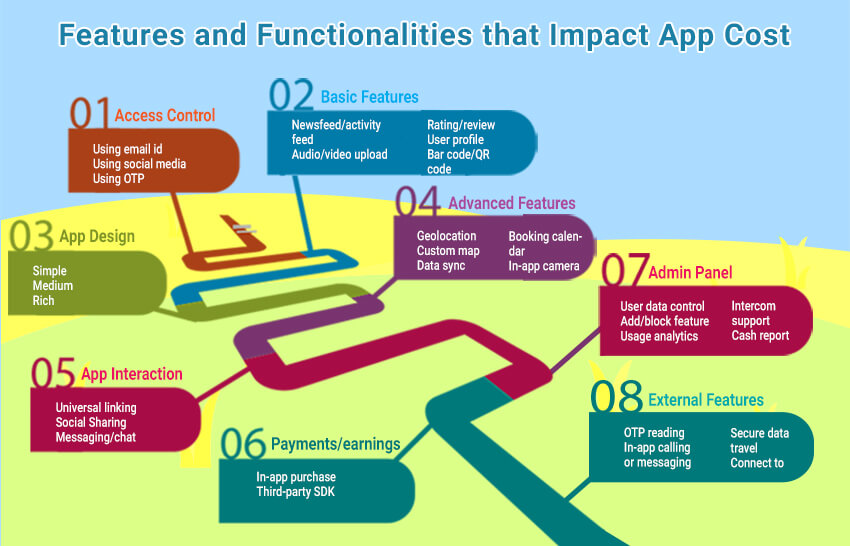 Breakdown of App Cost by Type of App and Features
Note:
The cost given here is only for native app (generally called mobile app). The cost of web app, hybrid app, or cross-platform app may vary from native app.
The cost and time taken may vary on your specific requirement.
The cost/time is an average market cost/time. Our charges and the time we take to develop an app would be more convenient and attractive.
Simple Mobile App (Basic functionality app):
Simple mobile app means an app that is mainly intended to give information. It doesn't require any third-party API integration. The simple app may include UI components, feed list, simple filters, and map markers. Example: dictionary kind of app.
Simple Android App: $5k-$10k, which may take around 2 months
Simple iPhone App: $5k-$10k, which may take around 2 months
Database-driven Custom Functionality App:
Database-driven mobile apps may contain features like users' data, products list, real time chats, payment features, integration with APIs, and a backend server. Example: Any e-commerce app.
Database-driven Android App: $10k-$40k, which may take 4 to 6 months
Database-driven iPhone App: $10k-$35k, which may take 4 to 6 months
Fully Dynamic Mobile App:
A fully dynamic mobile app is similar to a database-driven mobile app, but these apps mainly rely on external information: Example: Twitter, Flipboard, Facebook.
Fully Dynamic Android App: $60,000 – $80,000, which may take 6 to 12 months
Fully Dynamic iPhone App: $50,000 – $80,000, which may take 6 to 12 months
Other Type of Apps
Apps that Focus on Enhancement or Modification of In-built Features:
It means utilizing the certain functionalities of devices such as alarm, and camera to offer an enhanced use experience in using those functionalities.
Custom Utility Apps:
Custom Utility apps allow users to create documents or file in a specific way using the advanced features and functionalities provided in the app.
Note: The cost estimation of custom utility apps and apps that modify in-built features may vary on the type of features or functionality you want to modify.
How to Raise Fund for Your App?
You can raise fund from:
Venture Capitalists
Angel Investors
Super Angles
Get more ideas on fund raising here.
How Much FuGenX Charges to Develop a Mobile App?
To get an exact quotation, please feel free to reach us at info@fugenx.com or fill up the form now.