IoT can Take Small Machine Manufactures to the Next Level!
The changed scenario in manufacturing sector has posed tough challenges for small machine manufactures like non-availability of qualified resource, tighten safety regulations, utmost necessity of equipment upgrades and facility expansions.
Today from big billion manufacturers to emerging startups, IoT is an efficient way to bring cost savings, efficiencies, and higher productivity yields to in-house manufacturing process. When it comes to small machine manufactures, custom-built IoT Platform can enable them to leverage the power of Internet of Things. IoT Platform allows to connect devices to internet, gather and analyse data and respond to various scenarios.
Manufacturers of any small/medium machines like cutting machines, printing, coffee machines, shredders, inverters, motors and generators can harness custom-built IOT Platform to automate the interactions between the devices.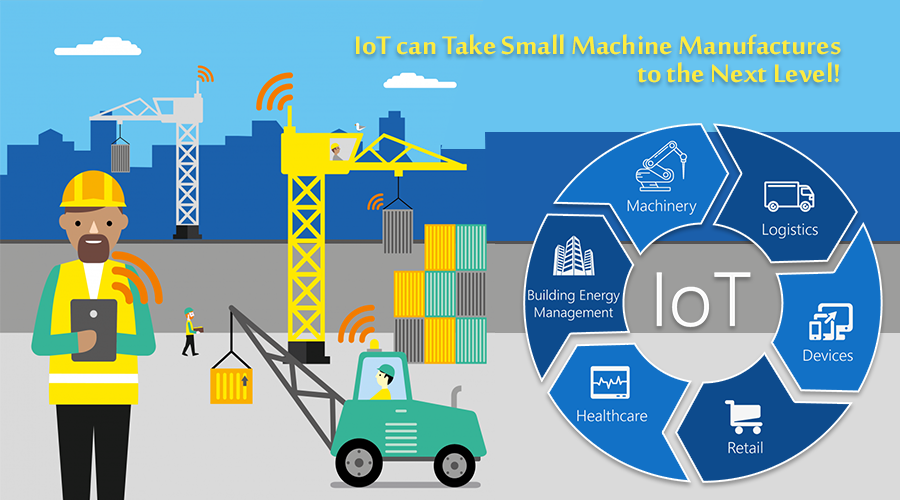 How it works?
Equipment required:
Big Data Analytics engine, Mobile application, and Cloud based master controller unit, etc.
Real-time tracking:
With the cloud-based dashboard, the admin can get the complete status of the machines behaviour.
Control unit
The centralized control unit (mobile app or TV app) gives ability to control machines and solve the issues automatically
Incident prediction:
Based on machine learning and past incidents, the system can predict possible faults.
Features:
Mobile app acts as a centre of IoT operations
Cloud based Master Controller Unit to control inputs and outputs. Cloud based analytics to predict potential faults
With multiple programming options, the admin can manage multiple machines simultaneously, which requires less manual interventions
Capability to understand major outputs and predications
To interact with the machines, the system can use both Bluetooth Low Energy and Wi-Fi protocols
Facility to handle both operator and service engineer Mode
Benefits:
Centralized tracking and control of machines in single or dispersed locations
Control unit allows to change configuration parameters and fix issues
As the system can identify voltage and temperature fluctuations, the life span of the machine can be increased
Grouping the machines under one production unit and program is possible with the Unit Level control
Decrease manual works, increases efficiency and streamline operations
Automate and integrate multiple operational tasks
Reduce the need of heavy resources, equipment upgrades, facility expansions
As IoT is able to predict possible damages caused by machines, manufacturers can decrease risk of accidents in the workplace
Why it is right time for manufactures to adopt IoT?

Reduced sensors and processors cost:
Heavy cost of equipment was one of the major obstacles that held back small manufacturers from adopting IoT. As Goldman Sachs report says the cost of sensors has reduced to an average of 60 cents from $1.30 in the duration of past ten years. Likewise, the cost of bandwidth and processing has reduced in the range of 40X to 60X. All these factors have made IoT handy for small manufactures.
IoT has a great capability to take machine manufacturing operations to a greater height. Compared to other manufacturing sectors, machine manufactures can yield a greater as well as much needed benefit from IoT to transform their operations.
Want to build your own IoT Platform to Transform your Manufacturing Process?
If you've already planned, it is great. If not, let us help you plan and execute. We at FuGenX are an award-winning IoT App Development Company in India and USA. We help manufacturers, retailers, and healthcare organizations build world-class IoT solutions to enhance their workforce efficiency and streamline business operations.
Connect with us at info@fugenx.com or fill up the form to transform your manufacturing operations with IoT.