How Much Does it Cost to Develop an on-demand Boat Renting App like UberBOAT?
Cost to Develop Boat Ride Booking App like UberBOAT
Whenever we think of booking a taxi, the first thing that comes to everyone's mind is Uber.
Since the inception of Uber, it has changed the entire way of using on-demand services such as ordering food, booking a taxi, and many more.
It is the reason many businesses across the world have started imitating the business structure and coming up with Uber-like apps.
Well, if you think you have missed your cab app development, there is an excellent opportunity before you in the form of an on-demanding boat-renting app like Uber Boats.
Uber Boat launched on Dalmatian Coast in Croatia. Uber Boat is an on-demand service that enables users to hail a ship as a hailing taxi. The Uber Boat service offers speedboats for a maximum of 12 people that were formerly tested in Miami and Istanbul.
Uber Croatia Boats provides services during the summer tourist season. Apart from it, Uber Boats Miami offers different services such as transfer between the port and Island and speedboat rent for full-day or half-day trips.
Currently, you can find various other boating apps like EZ waves, GeyBoat, and Hoba Rides.
The reason to suggest this business to you is; it is still a fresh idea that can fetch you early mover advantages.
The foremost thing you need to check before starting with the on-demand boat app development is to chalk out a plan. The next thing is to arrange the resources and funds that are required to help you get going with the introductory part of the solution.
The next move should be associating with an experienced mobile app development company that can build your project on the mentioned date and time in the budget. Investing in on-demand boat apps will take customer experience to the next level.
Need for an on-demand boating app like Uber Boat
Traffic congestion on the roads is a huge problem to be tackled in several countries due to urbanization.
It is better to say thanks to the concept of the on-demand application boat riding called Uber Boating. The ride-sharing giant Uber has proposed a multi-modal stage with a well-organized transport system to serve visitors and commuters better.
Along with the traffic congestion, the other advantage of the on-demand boating app is it will provide comfort and luxury to the users living permanently or temporarily around waterside territories to have a new level of experience for the users.
Another advantage is you can find reliable, affordable, and convenient daily is easy with Uber Boat.
How to book Uber Boat & How it works?
It is better to know Uber Boat booking before you clone the app. Because without knowing its working process, we cannot go further.
Step 1: Download and install the Uber app.
Step 2: Log in to your account if your existing customer or else signup.
Step 3: Set your destination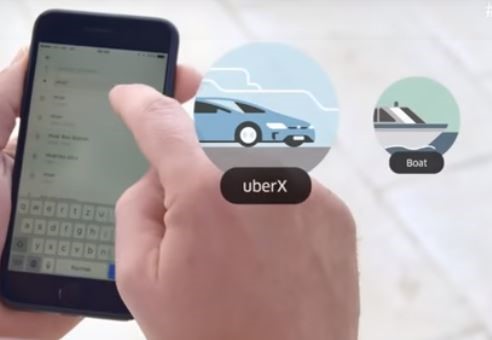 After completing the login process, enter your desired destination (Uber Boat locations).
Step4: Confirm your trip
Reach to your pickup location and enjoy your ride.
If you have any issues, you can contact the uber app help.
There are various methods to monetize an app, but here I am providing you some of the best models to generate revenue.
Let us have a look.
Subscriptions can be a quite useful monetization model. To ease the incorporation of this revenue model apple is paying additional attention and making significant changes in how the app subscription model works.
This format made to boost the app publishers to sell their apps for a periodic fee instead of a one-time cost
Another way of generating revenue is through commissions. In this type of mobile app, the mobile app developers will take the commission from every trip from both sides (User and Boat owner). The commission is calculated depending on demand and distance.
Value add-ons can be another way to generate revenue for your on-demand boating app like Uber Boat. Apart from the pick-up and drop, you can add additional services such as music, drinks, and many others for some amount that will also provide you revenue.
Advertising is undoubtedly the most common and easiest to implement, which can be done via a third-party ad network.
According to a search, in 2016, 7 out of 10 free app providers uses advertising as the revenue model.
Different types of ads
In-app video ads
Native ads
Interstitial ads
Banner ads
Points to be remembered while you build your on-demand Uber Boat
AI-powered custom In-app chat
Hire Uber developer who is very good at developing AI-based bots can be icing for your on-demand Uber for yachts and boat booking services. These Chatbots allow users to interact with the boat Capitan that they have chosen for their trip.
Using this feature, users can discuss trip details departure location, pick-up time, exact time to reach the place, price of the trip, things to carry, and many more.
After the completion of the discussion of all the details, the Capitan will send the payment request to their customers. If the customer is okay with the details, he can accept the request by tapping on that request button.
The weather update feature will be like free ice cream after a meal. If you want to give some extra support for the tourists and travelers from other countries.
It helps users to know Weather Updates so that your riders can know about their trip weather conditions so that they can prepare themselves ready.
Nautical map integration helps both users and boat riders. The nautical map helps the captains to sail through the sea quickly and smoothly.
It is one of the essential elements to include in your on-demand app for renting boats. Ride request feature allow users to book an on-demand boat trip. You can make it as easy as possible for your customers so that they can book with just a few taps.
Features of an on-demand boating app like Uber Boat
We at FuGenX technologies will help you with your idea of having an on-demand boating app like Uber Boat or Ez waves. Our technical team knows precisely what to offer once we have an initial consultation to know about your Uber app ideas and expectations.
An on-demand Uber Boat can mainly have the following stakeholders
Customer app
Capitan (Boat driver) app
Admin app
Basic features
Customer app
Signup/Login
Add profile
Manage profile
Select pick-up & drop locations
Select Yacht/Boat
Select the type of service
Fare estimation calculator
Offers/discounts/coupons
Payment details/confirmations
Book a ride
View ride details
Payment
Ratings & Reviews
Rides history
Push notifications
Capitan (Boat driver) app
Signup/Login
Create & manage profile
Accept/Reject the request
Pick-up points & destinations
Route optimization
View payments
Driver delivery reports
Passenger heat maps
Push notifications
Admin app
Admin Login
Manage customers
Manage drivers
Manage payments
Manage areas of services
Manage charges
Manage content
Manage offers
Manage ratings & reviews
Manage push notifications
Additional features
The features we are going to know now will place your Uber marine app on the side of leading marine apps.
Customer's app
Smart wallet
Social media integration
Split charges
Book now & ride later
Favorite destinations
Boat drivers
Rate & Review customers
Online support
Forward dispatch
Admin app
Technical support
Ride history report
Earning report
Location tracking
Tech stack we use to develop
Swift IOS
MEAN stack
Sketch
Android Studio
Sass
FCM
Geo-fence
Google Analytics
Google API
Android
AWS
Stripe
Google webmasters
Factors affecting the cost of an on-demand boat-renting app like Uber Boat
Choose which platform you want to opt in the initial stage because it takes a lot of time to develop both platforms.
It is better to go with the one platform that is Android/IOS in the initial stages. If you are successful with one platform, then it's good to go for the other platform.
The app needs to have an attractive design to engage users and retain them. The excellent design will cost more, but with the best design practices, we can reduce the cost to a large extent. FuGenX has proven expertise in this.
App size includes the number of functionalities, user database, and features that every app should have. Apps like Uber Boat should be scalable so that it can retain its efficiency even with the increased users.
The real development cost of Uber marine like apps depends on the developers' geographic location. Developers' experience and expertise level even matter most here. Developing an Uber Boat-like app in India is significantly cheaper compared to the US.
Project Manager.
UI/UX designers.
Android developers.
IOS developers.
Backend developers.
2-3 Quality engineers.
The developer's price will depend on the geographical location.
Cost of developers based on geographical location
India – $10 to $80/hour
Australia – $50 to $150/hour
Eastern Europe – $20 to $150/hour
USA/Canada-based dev teams – $50 to $250/hour
Eastern Europe – $20 to $150/hour.
 App development cost: Development time (hours)* Developer price per hour.
Cost to Develop UberBOAT Clone
The total cost to establish an on-demand boat-renting app will vary according to the requirements of the clients.
It is impossible to estimate the precise time and cost to develop an application without knowing its exact requirements.
If you want to know the precise budget of your boat renting app, contact us with your requirements. Our technical team will guide you through the process without charging you anything for the consultation.
I hope you are satisfied and got a clear view regarding the development of the on-demand renting boat app; if you are still stuck with any doubts. Please reach us by filling up our contact us form.
We are happy to serve you.