How To Transform Your Unprofitable Website Into Profitable Mobile App?
We have discussed in many of our app development articles that this is a purely Mobile World. With the evolution of Android and iPhone smartphones, people less interacting with websites for their desired needs. They are much interested in opening mobile applications for their personal or professional purposes.
Due to the easy accessibility of mobile apps, the users do not explore websites via computers. As of market reports, nearly 60% of mobile users are opening Amazon, eBay, Walmart like online platforms in their mobiles for purchasing essentials.
Not only restricted to e-commerce, but the mobile users also access every service with just a touch on their screen. Whether they want to purchase clothing or furniture, or they want to attend classes or professional meetings, or they want to monitor employee productivity at facilities remotely, intelligent mobile apps are their first choice.
Consequently, enterprises across diversified verticals have realized that mobile apps are the only way to attract customers, improve experiences, and increase brand credibility in this highly competitive digital world.
If this is the case, how can a business increase organic traffic for their websites? They have only two options- either satisfy the visitors landing on their website or convert the services and integrate them into mobile apps.
FuGenX, the best mobile app development company in Bangalore, India, advises companies that instead of running an inefficient website and earning only fewer profits, investments in mobile apps development is a futuristic approach for generating unbelievable revenues.
Before giving a brief knowledge on converting a website into a mobile app, we would like to share information on a few significant stats and reasons for the high demand for mobile apps. 
Why People Go For Mobile Apps?
Here are a few best reasons why Mobile Apps are better than websites.
Enhanced Personalization
Based on gender, age, and location, mobile applications offer more personalized services to users. A few online shopping apps also allow users to set their preferences for displaying a list of the most suitable products.
On the other hand, mobile applications using a few analytical tools will also track user search behavior to send custom recommendations related to new product arrival and price drops to users.  As I noted in the first line, mobile applications with location-tracking features also provide location-specific data to the users.
Therefore, unlike static web portals, mobile apps ensure better customer engagement, improve conversion rates, and provide a personalized app experience to users.
Push or In-app Notifications
Earlier, 80% of businesses have used emails to connect or communicate with prospects or business clients. But, they realized that the open rate of emails is dropped and failed to reach potential clients.
So, here mobile apps development assisted them in connecting with their customers ever like before. Mobile apps with push or in-app notifications feature help businesses to send a text to mobile users directly.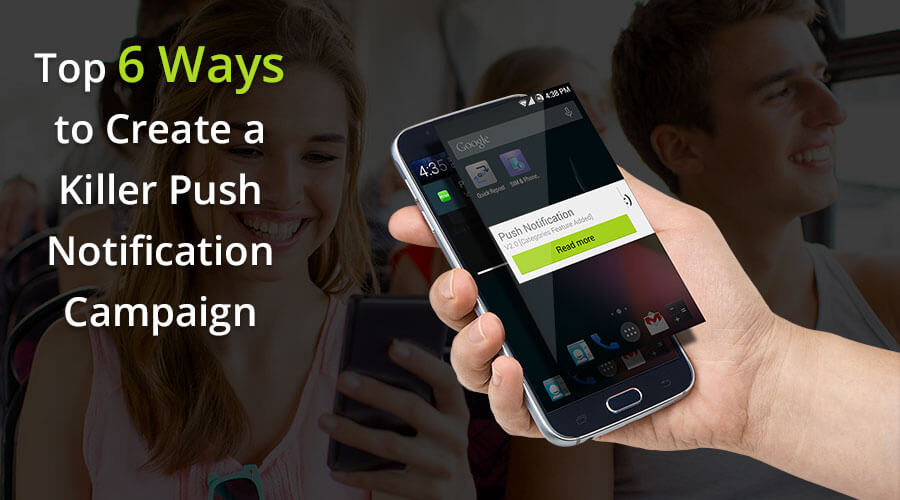 In-app notifications are called notifications received by the users on opening a specific app. We might come across a bell icon with a red-colored dot upon opening online shopping apps. On clicking the bell icon, users can know about price drops alerts or any other product recommendations. On the other hand, push notifications are those notifications that users will receive directly on their mobile devices.
Hence, whether a mobile app features a push notification or in-app notification, it helps businesses improve conversion rates seamlessly.
Let FuGenX Build Your Business App With Revenue-Driven Features!
Very Compatible With Mobile Device Features
Yes. Mobile apps are very compatible with the features of mobile devices such as a camera, gallery, contacts, location, and many more. For instance, popular location-tracking or navigation app like Google Maps allows users to confirm their place by enabling the GPS feature on the device.  Likewise, the mobile camera feature is also helpful to scan QR codes for online bill payments through e-wallet or mobile payment apps. Users can also capture and upload their documents or photographs for accomplishing a few insurances, banking, or online examination processes.
Hence, mobile apps ensure operational excellence, reduce user efforts, boost conversions, and increase user experiences.
Mobile Apps Are Faster Than Websites
Mobile applications ensure faster loading times than a website. According to the experts, the ideal website load time should be around 2 to 4 seconds. If it takes longer than 3 seconds to load, the visitors will shuffle off. It will happen with 60 out of 100 web portals due to the heavy traffic on the webserver side.
But, mobile apps development with a few best customer-centric features and simple User Interface (UI) design takes less time and works faster than Sites. The mobile android applications and iPhone/iOS open in the time that an eye takes to blink.
Yes, they will. Mobile apps use local storage space in mobile devices, and they are not bothered by web traffic that usually occurs at servers. So, creative mobile application development is worth and profitable in this digital world.

Not Only Online, Apps Run Efficiently In Offline
It is one of the key benefits or advantages of mobile apps over websites. Until and unless users connect to the internet, mobile websites will not open and show a No Internet error. But, the best android or iOS mobile apps ensure excellent performance in offline mode.
For instance, trending video-streaming apps like Hotstar, YouTube, and Netflix allow users to download videos to watch them in offline mode with high resolution. Likewise, navigation apps also enable users to download location maps for use in offline mode.
This functionality of mobile apps helps the users access the app content in areas with poor internet connection and improves user experiences.   
Recommend to Read: How Much Does It Cost To Develop A Video Streaming App Like Hotstar?
Advanced Designs and Flexible Functionalities
Once you open a website, either on your mobile device or on your computer, we have only a few limited movements like scroll up, scroll down, click on the menu bar, back and refresh buttons, etc.
But, the top mobile app development companies in Bangalore, India, design mobile apps on android or iOS platforms with numerous elegant functions, such as swipe, drag, tap, hold, back, pause, share, like/dislike, and many more features based on the category of the application.
With gentle swipe (left or right or top or bottom), mobile applications ensure smooth performance. Therefore, mobile apps do not impose any restrictions while accessing their features and let the users enjoy full-fledged functionalities comfortably.
Quick Brand Enlargement
Mobile app development (Android, iPhone, iPad, Wearables) is the best digital way for promoting products and services to a broad audience base. If you invest in websites, generating organic traffic, engaging visitors for long hours, and increasing conversion rates is a challenging and time-consuming process.
Once your app is developed and submitted on Google Play Store, Apple App Store, and other app stores, your app will reach millions of audiences and extend business brand value across the domestic and international markets.
So, through resourceful mobile apps for android and iOS development, businesses can create a new style of virtual branding that matches this digital era.
How To Convert A Website Into An App?
Ensure That Your Business Needs a Mobile App Or Not
Do not run in a dark path. Businesses should scrutinize whether they need a mobile application or not. Because not every website needs to alter into a mobile app. If it generates well organic traffic and high revenues, you can go on with that web portal. Businesses may not require to do updates or any improvements to the revenue-generating websites.
It is one of the crucial factors to remember before transforming your website into an interactive mobile application. Enterprises need to focus on why their website lacks to attract user attention, what kind of services the visitors expect from them, and what features the competitors have added in their apps for their audience in the same niche.
By gathering all data, businesses can feed the mobile app with the most beneficial and customer-friendly features. Also, focus on UI design and page navigation controls for improving user experiences. Further, this analysis will also help you develop a mobile application within the budget limit.
Hence, analysis with a clear vision of your upcoming mobile app is valuable and benefits companies.
How much Does It Cost to Develop Android Mobile Apps in 2021? 
Look For A Mobile App Development Company
If you have a brilliant app idea for converting your website into an interactive mobile app, you need to hire a top mobile apps development company. The best mobile app developers in the USA, India, and other nations, blend their expertise and technical knowledge to create flourishing Android and iPhone apps.
FuGenX is one of the top mobile app development companies in India. We are engaged in the design, development, and deployment of mobile and web apps. We are Deloitte award-winning company and acquired the trust of hundreds of organizations and small-to-medium enterprises worldwide. Our commitment to delivering bugs-free mobile applications made us a leading mobile apps development agency in Bangalore, India.
Let's Talk about your Android or iPhone App Development Needs.
Know the cost to develop the apps like

Conclusion
Mobile app development would give a big hit to businesses. Talk to our app development consultants, blast your app idea, and rush towards mobile app development. We are a trusted mobile app development services provider for many brands and startups. The application developed by our team will ensure incredible profits over time.