Top Android and iPhone Mobile Apps In India
Mobile Applications or Mobile apps are reflecting the emergence of digital transformation across the world. In this digital space, smartphone apps are sparking stars for businesses to achieve growth and expand expansion into all targeted markets online.
The available apps across Google Play and Apple App Stores are also reflecting how the global businesses are targeting their audience and how people are addicted to smartphones and applications.
At the end of 2021, the Apple App Store has approximately 2 million mobile apps available for download. Whereas, Google Plat store is stood in the top position with over 2.9 available mobile apps (free-to-download and paid).
These numbers are projecting the massive growth of the mobile app development industry in the world. Mobile app development companies are helping businesses in transforming their traditional marketing or client approach ways into digital via applications.
Today, through this article, we would like to give a piece of brief information on the top 10 most downloaded mobile apps in India and how to build one for your business.
Here we go!
Best Mobile Apps For Android and iOS In India
#1. WhatsApp Messenger
According to statistics, India is one of the top countries in terms of WhatsApp user base. The country has nearly 488 million active users in 2021. The number is still increasing and rushing towards the billion mark.
The below figure depicts the list of the top ten countries where WhatsApp is gaining popularity and ranked as the No 1 mobile app in terms of monthly active users.
Unlike other countries, this popular mobile messaging platform has grabbed the attention of Android users in India. Though it is a subsidiary of Facebook, it has more audience than Facebook in India, with nearly 3 million downloads in 2021.
Yes, WhatsApp is the most used mobile messenger app for Android and iPhone platforms. With its quick messaging and uninterrupted local and international video calling at free of cost features, WhatsApp is gaining popularity in this online world.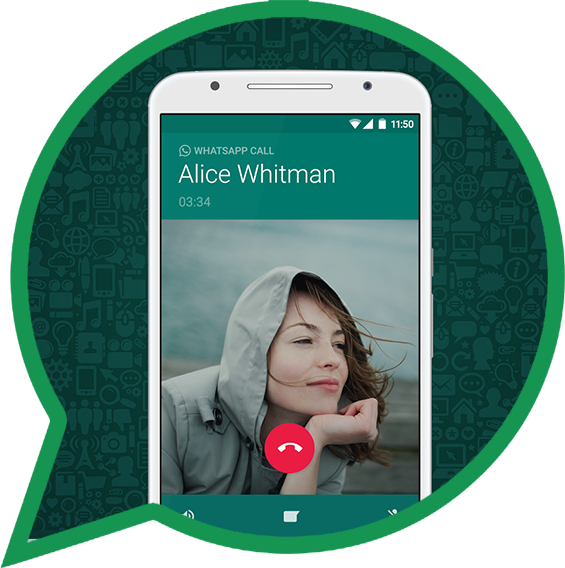 Get in Touch to know how much it cost to develop a WhatsApp-like trending online chatting/video calling app in India? 
#2. YouTube
According to research reports, as of 2021, there are nearly 459.2 million active YouTube users in India. The number is exceeding rapidly with increasing live video streaming habits of smartphone users in the country.
Ever like before, YouTubers are uploading nearly 400-500 hours of videos across 37 million YouTube channels in a minute. These numbers will reflect the growth of live video streaming apps in India.
Here are a few stats on YouTube mobile app in India:
94% of smartphone users are accessing YouTube content multiple times a day.
90% of people are using free-to-use YouTube for watching live videos
As of Statista, YouTube is the biggest social media platform for watching, sharing, downloading videos.
The global active users of YouTube are over 1.8 billion.
3% of global traffic to YouTube app comes from India
YouTube has reported over $5 billion in revenues in Q3 2020 through paid ads.
92% of retailers or while sale merchants in India are increasing their brand credibility through the YouTube app
96% of marketers are using YouTube as their revenue source. They are promoting business objectives and attracting an audience base through this platform.
According to Statista, the number of YouTube users in India is expected to reach 833.03 million users by 2025.
Total downloads of YouTube app from Google Play are over 10 billion.
Yes, YouTube app development for Android or iOS is one of the best ways to create an audience base. YouTube-like leading online video streaming app development lets businesses create an engaging platform for more revenues and credibility.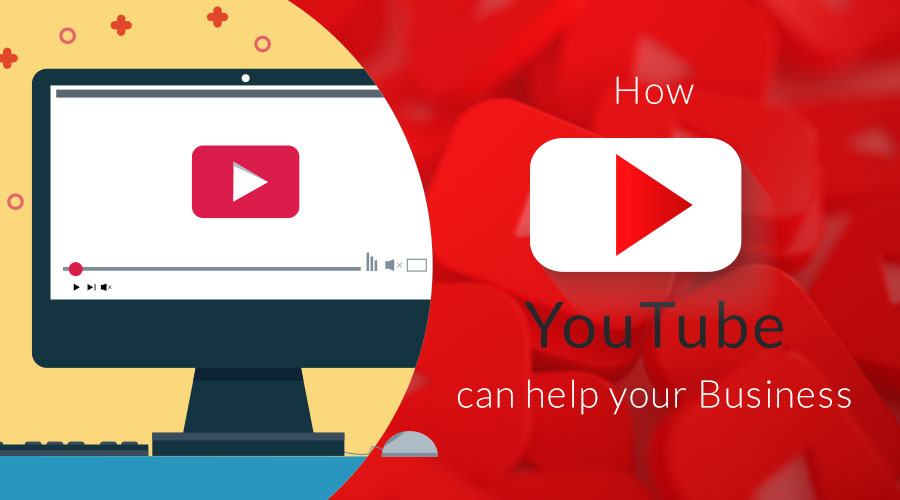 Still not believing my words?
Here is proof of the rapid growth of a #popular Online Video & Entertainment app (YouTube) in India.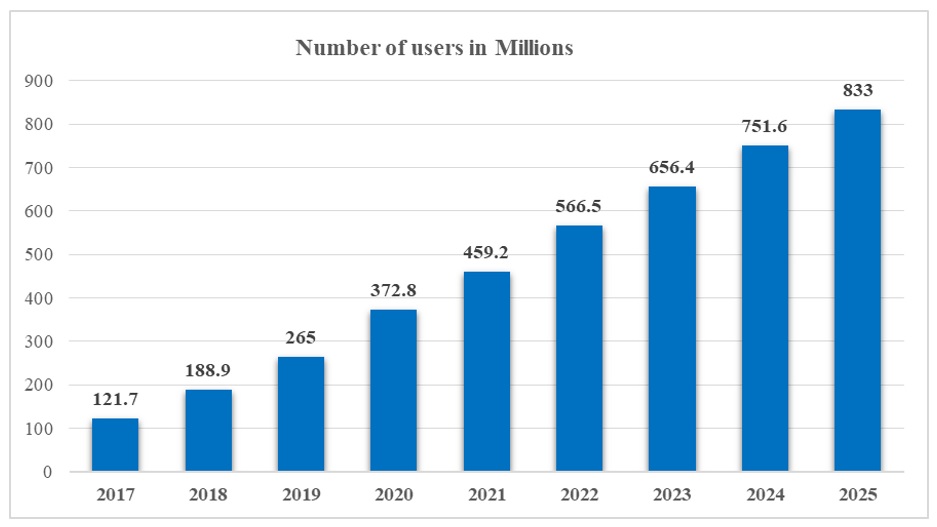 Source: Statista
Now, you can imagine the growth opportunities of YouTube-like online video streaming app development in India. Businesses can reach out to more audiences and generate an additional flow of revenues in terms of paid advertisements and commissions from YouTubers etc.
Recommend to Read: Top Benefits Of Using YouTube For Business
If you looking ahead to hire the best Android mobile app development companies in India or iPhone app developers in India, Click Here!
#3. Facebook/Instagram
Yes, Facebook and Instagram are in a race to catch up with a more audience base. These social media or social networking mobile apps are available to download for Android and iPhone mobile users for free.
Though the TikTok app has hampered the usage of Facebook and Instagram like famous social media apps in India, they are now two buzz words across the social networking industry.
These mobile applications allow users to upload or share photos, memories, reels, stories, and short videos with their network in seconds. People can also use these apps for personal chat, group chat, or video calling purposes. Further, users can also stream live videos and watch them on the go.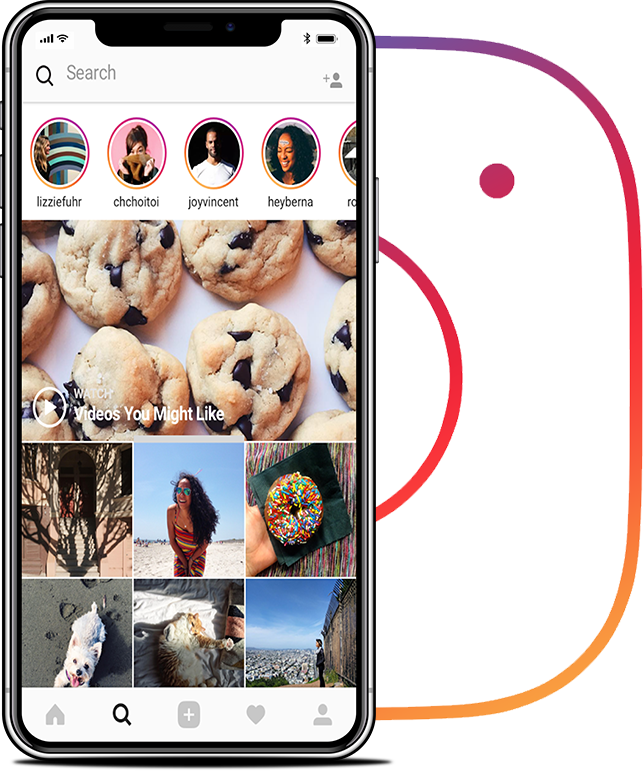 On top of all these features and functionalities, these popular social media apps in India help people stay tuned for the latest news or events that are happening around the world.
Hence, with the ease of internet access and availability of 5G network services, social media consumption has been increasing in India. So, this is the right movement for Social media apps development to spread brand awareness to all corners of the country in 2022.
The below figure represents a few leading players in the social media industry in India.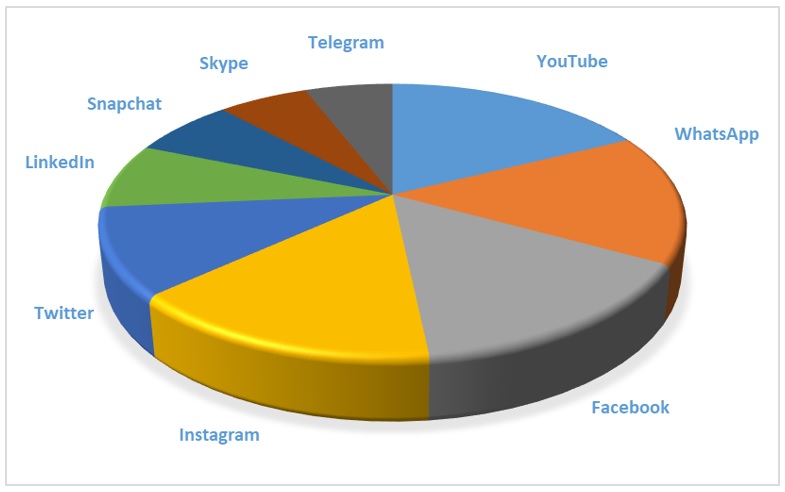 Recommend to Read: Best Mobile App Development Companies In India 2021
#4. PhonePe
Here is another best and most downloaded mobile Finance app in India. It is one of the No 1 payment app in India in terms of active users. India's biggest payments app has nearly 145 million monthly active users in 2021 and is expected to continue further in 2022.
The app has become popular in terms of billions of mobile transactions volume. In particular, during the COVID pandemic, PhonePe was stood in the front line of the digitization wave and flagged off a green signal for cash-less transactions for all kinds of needs.
From mobile recharges, DTH recharge, and utilities recharge to credit bill payments and instant money transfers, PhonePe has its hand on top. It is one of the most trusted payment apps in India.
Hence, the development of PhonePe-like best UPI-based payment or digital payment app (Android/iPhone) in India is the right choice for finance companies to reach more audiences and increase brand credibility faster and easier.
To grab the opportunities of PhonePe-like largest e-wallet app in India, the best mobile app development companies in Bangalore, India, are creating mobile payment apps for businesses with user-friendly features.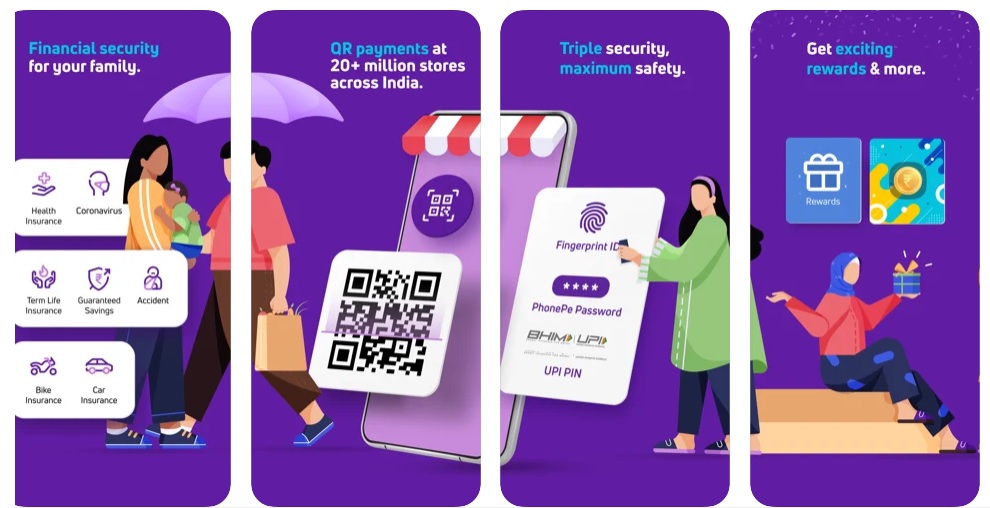 Recommend to Read: How Much Does It Cost To Develop An App Like PhonePe?
#5. Meesho
Meesho is the largest Indian e-Commerce platform for clothing, Jewellery and accessories, beauty and health products, footwear, electronics, sports and Fitness products, Pet supplies, office supplies, and home essentials.
It is giving tough competition to Amazon, Flipkart, and Myntra, and Snapdeal like popular Indian e-commerce mobile apps. This online shopping app with a wide range of product categories at affordable prices stood as the most downloaded Indian mobile app for purchasing products online.
Moreover, its easy-to-use interface is making it India's most downloaded app. As of August 2021, the app has over 100 million downloads. Nearly 14 million people worldwide are opening Meesho app in a day. Of which 80% are resellers.
The company through implementing various app monetization strategies such as brand promotions paid advertisements of merchants, nominal commissions from sellers and resellers, is generating revenues from this mobile application.
Recommend to Read: How Much Does It Cost To Develop A Reseller App Like Meesho?
Conclusion
Mobile apps are connecting points between customers and companies. Mobile application development will help brands stay in touch with their audience. They allow the customers to access the services of organizations at any time from anywhere.
Are you looking for a leading mobile apps development company?
FuGenX is one of the top native mobile app developers in India. We are a reliable software development company for brands, SMEs, and startups.
We have a team of professional and experienced iOS and Android mobile app developers and designers. Our dedicated mobile application developers (India) use the latest mobile technologies and tools and develop high-quality mobile applications.
Here are our end-to-end mobile app development services:
Native android mobile app development services
Native iOS app development services
Web app development services using AngularJS, Python, NodeJS, Java-like the best programming languages
Hashtags
#most popular apps in India #most downloaded apps in India # which is the No 1 mobile app in India? #best Android apps in India #Android app development company #Top Indian Mobile Apps #Best iPhone apps in India #Most Popular Android Apps in India #Best Smartphone Apps in India #Top mobile app developers in India #leading iPhone mobile app Development Company in Bangalore, India