Which iOS App Categories Will Help Your Brand Stand On Digital Race?
The smartphone market share of the iPhone is increasing with cumulative users' switch to iPhone mobiles. This shift is offering great opportunities for the iPhone application development industry. Companies of all sizes are investing in iOS app development to catch up with the IoT development opportunities and make their brand visible on global markets.
As of now, there are nearly 2.1 million iOS apps available in the Apple app store. The number has been increasing rapidly year over year.
Driven by this trend, iOS app development is anticipated to lead the mobile app development industry in the upcoming years. Undoubtedly, the future of iOS app development will be bright and brighter.
If you are a startup or a mid-sized enterprise, iPhone app development in 2022 will ensure a profitable business and increase your brand scalability with ease.
FuGenX, being the best mobile app development company in Bangalore, India, has crafted the most useful information for startups who are looking ahead to iPhone app development.
Herein, we guide you on which app development categories will promise you profits upon their launch into the app stores. Further, you can also get detailed information of what are the best iOS apps and how much it will cost for iOS application development in 2022.
We hope that this insightful information will help startups to have an idea of app category types that offer a bright business scope in the years ahead.
Let's get started!
Which Type Of iOS Apps Are Needed For 2022?
The mobile app development industry is embracing the most advanced technologies and illuminating its path for its bright future.
Driven by the availability of high-speed 5G network, the emergence of AR and VR, high demand for internet-of-Things (IoT)-based devices and wearables, Artificial Intelligence (AI) & Machine Learning (ML) advancements, mobile app development companies are creating a roadmap for robust app development. They are delivering highly scalable apps that meet the desired needs of businesses.
These are the top iOS mobile app development trends that must consider for creating a successful mobile application in 2022.
If you would like to develop mobile applications for iOS devices, focus on the below-listed app categories to get a big hit in this competitive app development world.
Most Popular, Most Downloaded, and Highest-Earning iOS App Types
According to Statista, mobile gaming apps are the most-downloaded iOS app category acquiring approximately 14% of the most popular Apple App Store categories share in 2021. At the end of 2021, there are 288K mobile gaming apps were available in the iOS App Store, witnessing a 5% increase over the previous year.
The below figure depicts the growth of mobile gaming apps from 2015 to 2021: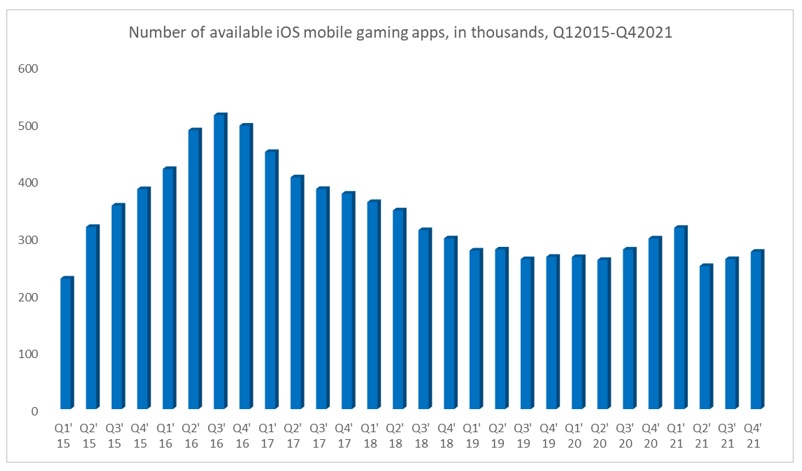 The above figure represents the fluctuating growth of iOS mobile gaming apps from 2015 to 2021. The segment has witnessed a drastic downfall in 2019 due to the COVID pandemic. But, during the first quarter of 2022, the mobile gaming development industry has witnessed an increase of 5% of growth from Q42021.
This growth is expected to continue in upcoming quarters and offer profitable results for companies that develop iOS apps in 2022.
Get In touch to Get The Development Cost Of Mobile Gaming Apps.
Later, with a 10.15% share of the most popular apple app store categories, iOS Business apps were ranked as the second-most significant iOS app category in 2021.
Google Analytics (the best iOS app for data management and report creation), Expensify (The best Fintech app for iOS), Skype (The best business communication app for iPhone), GoToMeeting, Google Calendar, Evernote, FreshBooks (The best business app for accounts management), and Uber Business are a few of the most-downloaded business apps for iPhone and iPad during the year.
Followed by online education apps with 9.68% and utilities or online bill payment apps with 9.05% of the share are stood in the third and fourth largest iPhone app categories.
Here is a detailed representation of the share of most downloaded Apple App Store categories as of Q1-2022: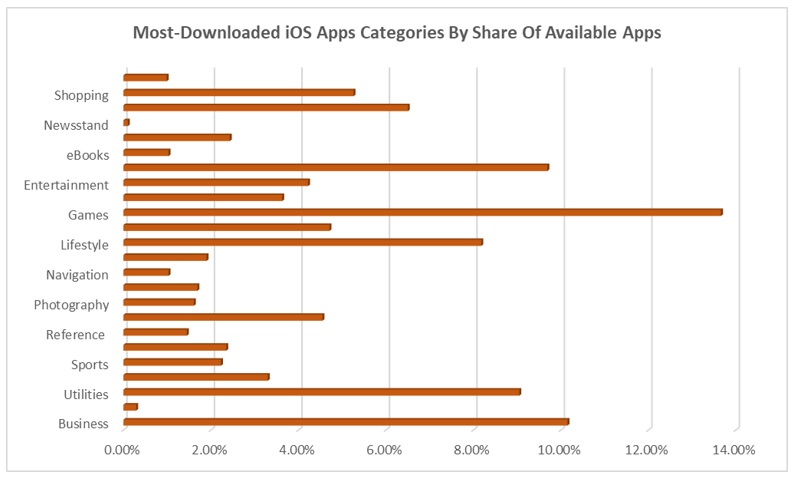 So, based on your business niche and interest, invest in iPhone app development and start to digitize your operations.
However, nowadays, businesses are mush interested in developing multi-purpose apps than investing in single-purpose apps.
For instance, Uber is one of the best apps for booking cabs and also a popular iPhone mobile application for online food ordering and delivery. Similarly, Ola was into travel booking and food ordering services.
So, multi-purpose iOS mobile app development is one of the best business strategies to meet your audience's needs, increase brand reliability, and generate profits.
Being the best mobile application development company Bangalore, India, we develop futuristic iOS apps using the latest app development technologies, tools, and UI frameworks. We have developed and delivered over 750 on-demand mobile apps (like BigBasket) for iOS and android platforms.
Get A Free App Development Consultancy & Free App Quote For Your Project!
Which iOS Apps Are In High Demand?
 A part of the gaming app category, Skype, WhatsApp, TikTok (popular social networking or video/reels sharing app), Tinder (most-downloaded and the best online dating app), and on-demand service apps like Food delivery apps, pharmacy delivery apps, grocery delivery apps, travel or trip booking apps, healthcare and fitness apps, service apps (like house cleaning, plumbing, laundry service, and beauty service apps) are all in high demand.
E-learning apps, YouTube-like video streaming apps, eWallet apps or online mobile payment apps, instant money transfer apps, and FinTech apps are also in high demand and reported millions of downloads during 2021.
FuGenX, the best custom mobile app development company, offers you top-notch iOS app development services at an affordable budget.
Let's connect and let your brand reach a wide iOS audience base!
How Much Does It Cost To Build iOS Mobile Apps In 2022?
The iPhone application development cost depends on its features, app design, integrations, and technology stack-related factors. FuGenX, one of the top custom mobile app development agencies, being the best iOS development company, states that the average cost to create mobile apps on the iOS platform would range from $30,000-$110,000+.
As discussed, based on the complexity of features that you will add to your iOS application, the size of your app will be increased. But, the app size will be directly proportional to the total iOS app development cost.
For instance, the development cost of iOS applications with simple UI and basic features list might range from $30,000-$50,000. But, the cost of iOS application development with complex UI requirements and advanced features and functionalities will go beyond $150,000.
These are a few primary aspects that impact your iOS app development cost. Apart from these factors, the hourly rate of iOS app developers, UI/UX designers, QA engineers, and other team members who are involved in the overall iOS app development lifecycle will also impact the development costs.
Moreover, the cost of iOS apps also depends on their category. The cost of iOS apps by category may lie between the given ranges:
iOS gaming apps development cost will range from $30,000-$125,000+
Business apps for iPhone development cost: $10,000-$100,000+
Online learning apps or education apps cost: $20,000-$95,000+
The development cost of health and fitness apps: $25,000-$200,000+
The costs of online food delivery apps: $20,000-$45,000+
Travel apps development cost: $25,000-$95,000
Online shopping apps development cost: $30,000-$130,000+
Video streaming or entertainment app development cost: $150,000+
Social media apps or social networking apps development cost: $90,000+
Accordingly, payment integrations (like Apple Pay, Braintree, and PayPal) and third-party API integrations (like Google Maps, Booking APIs, and social media APIs) will also impact the iOS app development costs.
Don't panic. Here are a few tips that let you reduce iOS app development costs.
Amazing Tips To Reduce iPhone App Development Costs:
Introduce minimum viable product into the market
Go for cross-platform app development rather than developing native mobile apps
Add basic features that meet the needs of your app users
Go for a simple and easy-to-understand app design to reduce the burden of extra UI costs.
Hire a mobile app development company from regions where the hourly rate of app developers is budget-friendly
Follow these tips to reduce the burden of iPhone application development costs.
Conclusion
Finally, we conclude that iOS app development in 2022 would be profitable for businesses across diversified industrial verticals. Herein, we have given you information related to iOS app development costs, cost impacting factors, and tips for reducing application development costs. Accordingly, we have also given you the information related to the top or high-demand iOS app development categories.
If you want to access a higher audience, develop an iOS application, implement app monetization strategies, and generate attractive profits for the long run.